Exciting Changes at JCC Main and Logan Campuses
A Message from Andy Lipkin, Federation Executive Vice-President
If you've been to the JCC Main or Logan Campuses lately, you've likely seen some of the exciting changes happening. If not, you're missing a lot!
Just look behind the JCC for one of the more visible additions - a large pavilion. This space includes bathrooms and a kitchenette, and seats 200 to 250 people. A grill will soon be available and picnic tables are on the way. Our summer campers will use this space extensively during camp. We have record numbers of youngsters this year and the pavilion is the perfect home for these campers. They have easy access to bathrooms and have been happily enjoying popsicles stored in the kitchen.
But that's not all we envision for the pavilion. We can use it for community programming and include it in our rental options. It will be a great place for someone to host a party! It will be good for our own programming, too, as a recent performance by Jewish musician and educator Sheldon Low for our preschool children and campers showed.
The new pavilion on campus will be used for a variety of purposes.
Two important parts of our campus - the pool, which is inside, and Noah's Park, which is outside – are now more smoothly connected through an updated ramp. And the quarter mile walking trail that begins at the JCC parking lot and winds through the campus behind Noah's Park has been freshened up. The path was paved and trees were trimmed. A second entrance to Noah's Park was also added for easy access from the pavilion.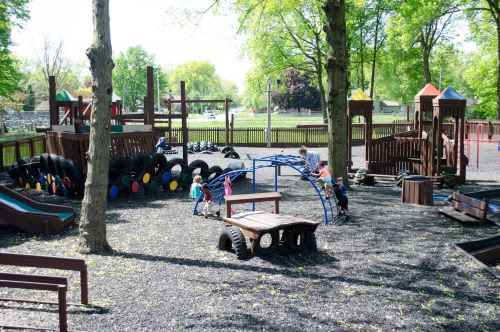 Noah's Park
Adjacent to the pavilion is a new open play space. This space was left open intentionally so it can be used for a variety of activities. Possibilities include basketball or a safety town. We needed more multi-use space and this is perfect.
Next to the pavilion, pickleball courts are nearly complete. These four courts will be the Valley's first sanctioned outdoor competitive-grade courts. Included will be seating and shaded areas. The courts will be available daily for open or organized play. In August, the JCC will hold its first outdoor pickleball tournament.
Competitive-grade pickleball courts are being built.
Another project on the campus that isn't as visible as these but needed to be done is the replacement of the roof over Akiva Academy. This big project is currently underway. Inside the JCC building, work is being done to create two new preschool classrooms. They will be finished in time for the new school year, and will enable us to grow our preschool program.
I can't forget to mention the changes on the Logan Campus. We've had problems with umbrellas blowing over, but we want to be able to provide shade. So we added sun shades to cover a large area. They're attractive and block the sun. Unnecessary fencing around the tennis courts has been removed to make them more accessible. And new furniture will soon be added. The Logan Campus is a wonderful summer spot for members (if it ever stops raining), but also serves other functions. Recently, a community Shabbat with Sheldon Low was held on the Campus. I was pleased to see well over 100 people, young and old, enjoying it.
Sun shades cover a portion of the Logan Campus.
These two campuses provide us with a wealth of opportunities. There is a lot to be proud of already, and we continue to make improvements regularly. If you haven't visited lately, please stop by. Happy Summer!