Liptalk: Without Federation...
A Message From Andy Lipkin, Federation Executive Vice-President
Our 2018 Inaugural Event was fantastic! It started with a VIP meet and greet with actor Joshua Malina. Josh graciously posed for photo after photo as he chatted with everyone.
Later, Josh, as keynote speaker, gave a presentation entitled, "How to Make it in Hollywood and Remain A Mensch." He regaled us with stories of his mother insisting he call Aaron Sorkin who grew up near him – she "just adopted that classic Jewish mother reasoning, 'He's Jewish, you're Jewish. Give him a call.'" and explaining how he saved Sorkin once when he was choking – "He lived. We laughed. And, in a perhaps unrelated note, I've gone on to appear in almost everything he's written."
Actor Joshua Malina was the keynote speaker at the 2018 Inaugural Event.
But he also discussed the Youngstown Area Jewish Federation and all it offers to our Jewish community and the greater community. He was "blown away" by the services we offer and the facilities we have here on our Gypsy Lane campus.
And, as he said, with donations going to such things as the Commission for Jewish Education, the Jewish Community Center, Jewish Family Services, Holocaust education, Heritage Manor, Levy Gardens and trips to Israel, donors can feel good about where their money is going.
Without Federation, these things wouldn't be possible. Without Federation, 13,750 individuals wouldn't have received Holocaust education in 2017 through the Jewish Community Relations Council, and 18 evangelical and mainline Christian pastors would not have participated in a JCRC-sponsored mission to Israel.


The Jewish Community Relations Council provides Holocaust education to members of the community through exhibits and programs in schools and community organizations.
Without Federation, our community wouldn't have a five-star rated nursing home, Heritage Manor, where 1,582 activities were offered to residents in 2017. Without Federation, we would not have Levy Gardens, our assisted living residence, where tenants enjoyed 71 cultural outings last year. Without Federation, Jewish Family Services wouldn't have been able to provide nutritious meals to 6,713 people last year, or be able to provide guardianship services to roughly 33 people in our community.
Ken Beilecki, JFS director, prepares meals for delivery to community members.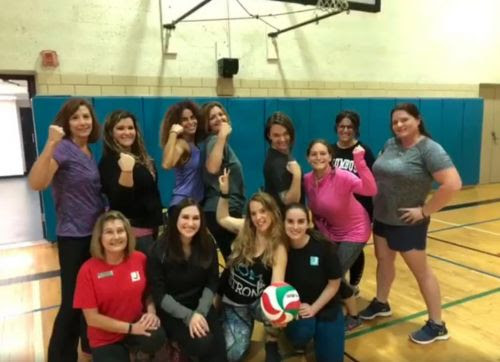 The JCC brought Mamanet, a game similar to volleyball, to the community.
But we can't do these things without your support. Please consider an increased donation to the 2018 Combined Jewish Appeal Campaign. And, keep in mind that the Youngstown Foundation will increase your donation of $100 or more to the Federation by 10 percent if you make it through them. You can make your donation through the Youngstown Foundation here.
Thank you in advance to all who support what we do. Every day, with your help, we improve the lives of people in our community, in Israel, and throughout the world. Visit our website to see a video that premiered at the Inaugural Event that tells more about what our community would be like without Federation.
Finally, I'd also like to thank the hosts of this year's Inaugural Event – Gerry and Jeannie Peskin. I know they prefer to work behind the scenes, but they were wonderful hosts of the event. And thank you to Dr. Mark Perlman, the chairman of this year's campaign. With his leadership, I know the campaign will be a success.
-Andy
Andrew Lipkin
Executive Vice-President, Youngstown Area Jewish Federation