Recently the Jewish Community Center Wellness Manager, Casey, posted something on Facebook that resonated with me.
"I was asked to do a nutrition presentation at work for our ELC families by my awesome colleagues. It felt so GREAT getting back to doing what I love and what I'm so good at! I love presenting and teaching and watching my audience absorb my knowledge, get excited over it and leave ready to make changes."
I'm happy a colleague is excited about her work. But it also exemplifies how we're working to break down silos at the Federation. The Youngstown Area Jewish Federation is the umbrella organization for the Jewish Community Center, Jewish Community Relations Council, Jewish Family Services, Heritage Manor, and Levy Gardens. We also publish the Jewish Journal Monthly Magazine.
Casey
Each serves its own purpose. But together they're even stronger. Our staff is no longer afraid to go beyond one's own job and work together. Casey's Facebook post is a perfect example – our JCC wellness manager working with our JCC early learning staff, students, and parents. But it's not stopping there.
It was made clear during the initial days of the pandemic that we work better together. It was critical that Heritage Manor and Levy Gardens needed support from all of our agencies. They could not close, and were working with a vulnerable population. Each Federation agency stepped up to support them in any way they could. For example, the JCC provided pandemic childcare to these essential workers, we launched a hotline to connect people with mental health assistance and other resources, and Jewish Family Services offered teletherapy via video or phone for staff and clients.
Today, Levy Gardens' drivers are helping to deliver mobile meals, which is a program in partnership between the JCC and Jewish Family Services. JFS also provides a counselor for a Parkinson's support group at the JCC. The group participates in a fitness program designed to empower those with Parkinson's disease to take control with daily exercise, then a JFS counselor meets with them to provide support.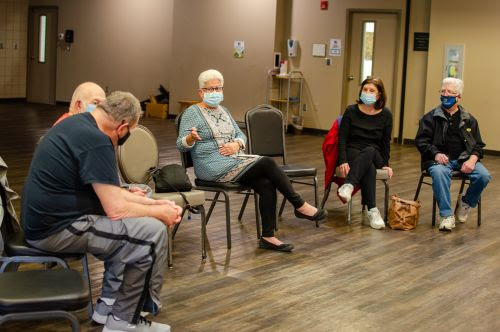 Parkinson's Support Group
Our Jewish Community Relations Council advocates, at the local, state, and federal level, for a variety of initiatives for our agencies. Most recently, they've worked to secure funding for our mobile meals program and nonprofit security for the JCC, Heritage Manor, and Levy Gardens. They're working with JCC staff to prepare a booth at the Canfield Fair. The JCRC also works with JCC staff on programming throughout the year, including new plans to offer special presentations of films relating to social justice as part of the Film Festival. They will work with Heritage Manor and Levy Gardens on programming related to Partnership2Gether, the consortium comprised of 16 U.S. communities (including Youngstown), the Western Galilee area of Israel, and Budapest, Hungary.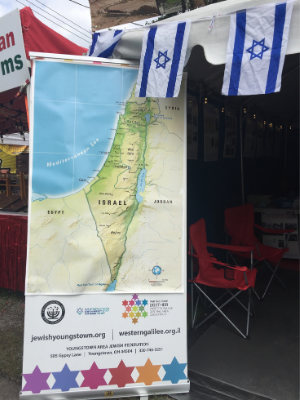 Canfield Fair
We recently hired Nicholas Hargate as the first director of Levy Gardens who isn't a registered nurse. This is possible because of the strong connection we now have between agencies. He will receive the nursing support he needs from not only Levy Gardens nurses, but Heritage Manor nurses, as well. The other agencies will provide support where needed for programming and other services.
Nick
We're also working with outside agencies to build a stronger community.
Fitness classes are taught at Akiva Academy by JCC personal trainers. Akiva families receive a discount on JCC membership, allowing them to reap the benefits of our fitness, wellness, and arts and culture programs.
JFS works with Trumbull County Mental Health and Recovery Board to provide guardianships. They partner with Mahoning County Mental Health and Recovery Board for senior outreach. The Mental Health and Recovery Board provides funding. They also work with Millennia (formerly Heritage Apartments) on Granada Avenue. JFS provides a part-time social worker to help residents with service coordination. Through Direction Home of Ohio, JFS offers social work counseling.
The JCRC also works with Akiva to address needs in the school and on issues relating to their students. They also work with our local synagogues on matters that require a JCRC voice. And, of course, JCRC is out in the general community as an important community partner on numerous initiatives.
Federation staff is working with the Temple Collaboration Committee, and working to help establish the Jewish Cemetery Association. Federation security personnel regularly consult with synagogues on their security needs.
Moving forward we see much potential in partnerships – between our agencies and organizations in the greater community.
JCC is planning to once again provide intergenerational opportunities. Programs such as GrandFriends were suspended during the pandemic, but hopefully will restart soon. In this program older adults volunteer in the Early Learning Center, sharing their knowledge or experience on a specific topic, playing with the children, or reading books to them.
GrandFriends
JFS has a relationship with ISLE (Purple Cat), but is looking to expand that further. ISLE provides comprehensive care of persons with disabilities, and collaborates with other groups in developing and implementing health and daily living skills programs. In the future, ISLE may utilize the group home owned by the Federation.
We truly are becoming the integrated Federation we always said we were.
One last note:
Sadly, as I conclude my latest column, I learned of the passing of Sam Kooperman, our Federation executive vice-president from 1985 to 2014. Sam was my mentor as well as a mentor to other professionals and lay people. He was a pillar in the Jewish and general communities and accomplished so much during his tenure that I would not do justice by trying to list everything. Some of the highlights include a major renovation of the JCC in 2000 including the establishment of a state of the art fitness center, construction of a separate wing at the JCC for Akiva Academy, building Levy Gardens, overseeing a significant renovation of Heritage Manor, moving Jewish Family Services from the second floor of the JCC to new offices located on the northeast corner of Heritage Manor, and the resettling of approximately 450 Jews from the former Soviet Union. If there one thing I am sure Sam was most proud it was the relationship he had with Irwin Thomases, which led to the establishment of the Thomases Family Endowment, providing critical funding to organizations in the Jewish and general communities.
Sam will be missed by all of us who had the privilege to work with him, and the many community members he touched. I will miss Sam. May his memory be for a blessing.
- Andy
Andrew Lipkin
Chief Executive Officer, Youngstown Area Jewish Federation