Note from Andy: This month, in place of my regular column, I invited Denise Wolf, Jewish Community Center Executive Director, to share her thoughts.
It has been eight months since I started my journey here at the JCC as the Executive Director. After serving as the Chief Operating Officer at the Tucson JCC for the last 16 years, I wasn't quite sure what I would discover here in Youngstown. What I have found is that the Jewish community and the general community support the Jewish Community Center. The generosity of our community is inspiring and the commitment of our lay leadership is deep and devoted.
There are three main goals I wanted to focus on: program excellence; outstanding customer service; and staff/team morale and role clarity. Early on I learned that this JCC and Federation are blessed with an amazing staff of professionals that are diverse in their years of experience, knowledge of Youngstown, wide and varied skill set(s) with high energy, and a passion for giving back to our community.
The JCC is a full service community center with a mission to "create and maintain a standard of excellence in the areas of social, cultural, educational, and recreational programs for its members of all ages in a Jewish environment." You will find a wide variety of programming that supports this mission including wellness/fitness, aquatics, early childhood education, before and after school youth activities; summer camp; arts and culture, and informal education and recreation for all ages.
In the midst of a global pandemic, the JCC community has had an amazing year. I'm most proud that throughout these challenging times we have provided a community where everyone is welcome. While the JCC was shut down mid-March through May of 2020, the JCC lost more than $185,000 of expected membership revenue and although the summer was successful, we were still under budget by over $350,000 by the end of the year. However, in 2021, JCC membership has broken records, exceeded goals, and have helped thousands of members connect to JCC programs and services. In the summer alone, we connected over 425 new individuals and families to our Logan Campus and various JCC offerings. This is community.
In 2020, when most of the country shut down and we closed the JCC temporarily, we offered pandemic childcare for local essential workers. When we re-opened our preschool, enrollment was limited. This school year, with precautions in place, our enrollment is back to pre-pandemic numbers. Last summer we were one of very few summer camps that operated. This summer, we had a record-setting camp season, serving 30 percent more campers per session than ever before. This is community.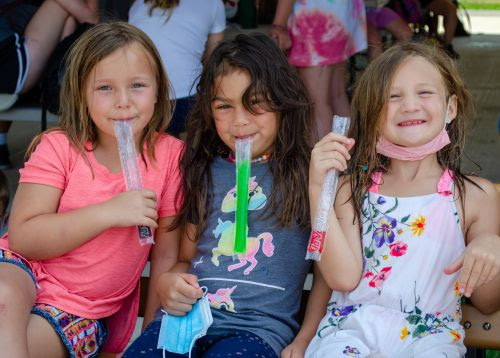 Over the past 18 months the Mobile Meals program has served over 250,000 meals to seniors in Mahoning, Trumbull, and Columbiana counties. Not only did this help hundreds of adults that are or were homebound, food impoverished, and/or with limited income, this program allowed us to maintain employment for our entire staff even when most of the building was closed and programming was limited. The JCC and Federation did not lay off any of our team. This is community.
With the exception of a few months in 2020, we continued to offer a fitness center and gym to provide our members a place to work out, recreate, release some energy, and be among friends. Our aquatic department, between our pool in the Main Campus and at the Logan Campus, has been open for lap swimming, and swim lessons for children and adults and for those with special needs. We have continued to provide fine arts programming through our Schools of Dance, Music, Theatre, and the Paul and Yetta Gluck School of Visual Arts, both virtually and in-person. And, we welcomed Marom Shmueli, our Israeli Community Shaliach to town and our JCC. All of this in a safe, healthy environment. This is community.
It is my vision that we will continue to fulfill the mission of the Jewish Community Center through programming and excellent service, meeting and exceeding the expectations of our community here in Youngstown, and welcoming all. Throughout the last one and a half years the JCC has made every effort to ensure guests and members are safe, but are still able to improve their quality of life. The Mahoning Valley needs us now more than ever to be the place where our community can work on their physical, mental, and social wellness. If at any time you have feedback or suggestions on what we can do differently or better, please contact me at the JCC. This is community. This is our JCC.
- Denise
Denise Wolf
Executive Director, Jewish Community Center of Youngstown